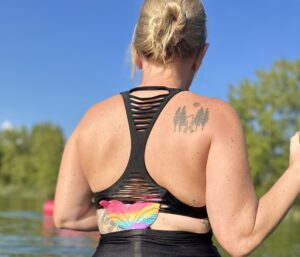 I have started the process to publish my third children's book. With every book I've published, I think it just might be my new favorite. If you know me, you know I wrote my first one years before I took the plunge to publish it. It was a coping mechanism of mine when I was in the heart of new, awful grief. When I wrote it, I wrote it for me. I wrote it for my daughter. Sharing it with the world was a level of vulnerable I was not ready for. And it also was a new feeling I did not know I would become addicted to. I love being an author. I love seeing my words come to life through characters. I love hearing people and how they enjoyed or reacted to my books. Anyways, fast forward to my third book, and it somehow still has a huge meaning to me. I took a phrase I say to my daughter all the time especially when she was two and three, and added a special meaning to it.
In my family, we are big Bigfoot people. My Dad loved the idea and so once he passed, it kind of become an unspoken obsession for me and I believe my siblings. The meaning of Bigfoot took on a whole new purpose for me… Bigfoot reminds me of my Dad because I cannot see him, but if I believe enough, I know he's here. Cheesy? Maybe? Am I crazy? Maybe? Do I care? No.
But if you are one unfortunate enough to know the pain of grief… any little moment you can have will to help you smile, feel connected, and be reminded of that person is oh, so worth it. So, who is your Bigfoot? And if you can answer that, I truly am sorry.
Stay tuned for my third children's book! Should hopefully be available in time for the perfect addition to Christmas gifts or that Christmas Eve tradition. Does it feature Bigfoot? No. But it does have his snowy, mysterious, mythical friend.. the Yeti. 😍